06:00: Up Yoda is
06:30: Uncle Vic is here to pick up my mom, wife, and I.
06:52: At the New Orleans Airport once again.
06:53: At security.
07:01: Through security.
08:10: Boarding begins.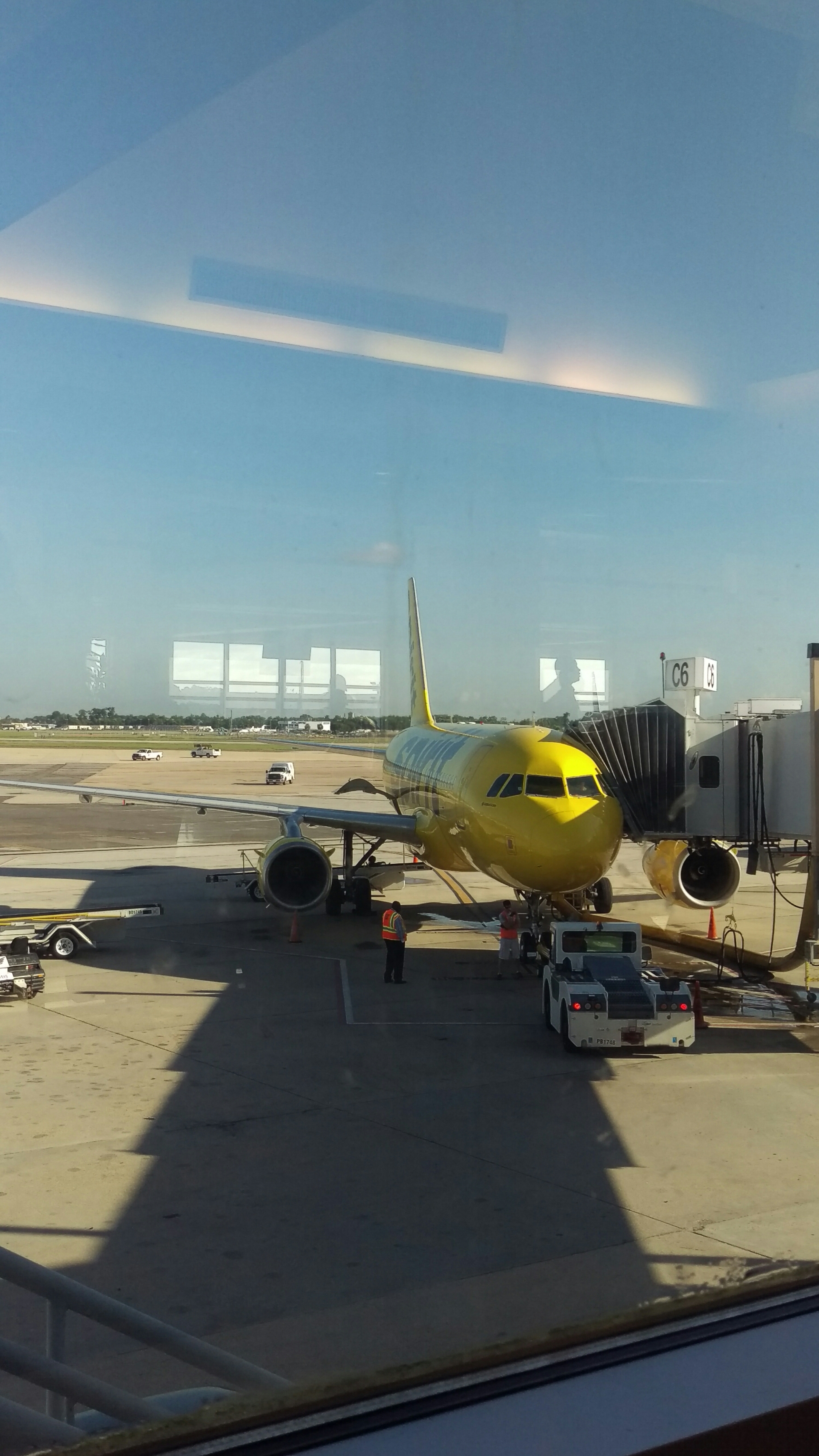 08:25: Sitting in the plane. You can ride on the plane if you want, but I am going to ride in the plane….
08:39: Pushing back.
08:48: Takeoff.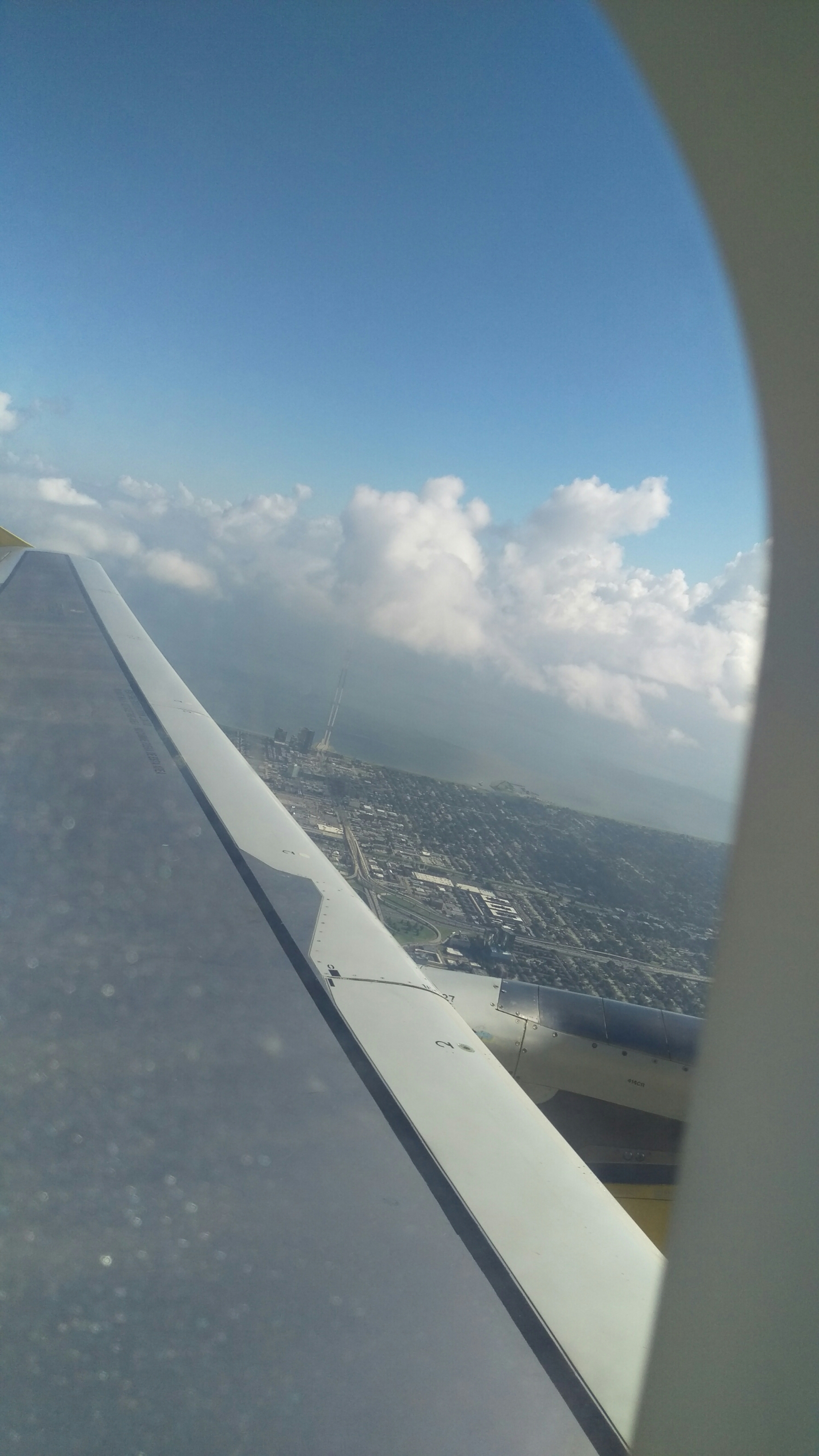 09:45: Touchdown.
09:51: At the gate.
09:55: Off the plane. A quick bathroom stop.
10:00: Walking to the skyway.
10:05: On the skyway.
10:09: Off the skyway.
10:15: Waiting at the bus stop.
10:35: On the bus.
11:30: Off the bus.
11:40: On the light rail.
12:03: Off the light rail.
12:23: I check in for diagnostic labs. A new computer system for checking in has been implemented where you just sign in on a touch screen computer using my medical record number and confirming why I am here and my cell phone for contact.
12:30: My name code gets put up on the screen for me to see the front desk. They say they don't see any test for me and asked who was ordering, I told them Dr. Rodriguez or Emily Wesson the research nurse. They find the orders on tomorrow's schedule and tell me that they will schedule them for today,for me to have seat and my name will appear again shortly on the board.
12:33: My name appears again on the board so I go to the door and the next nurse asks my name, finds my wristband and scans it. Then puts it on me asking my date of birth and medical record number. We go to the back where she scans my band again and prepares 3 tubes to be filled. She feels both arms and then takes the blood from my left side and sends me on my way. I get a call from a client while this is going on and send it to voicemail.
12:45: I am done with the blood draw. I walk back to the waiting area where my wife is waiting and return the phone call. Comes to find out, they have no internet, pages not loading, can't upload X-ray images. I troubleshoot with the client rebooting the modem, router, switch and restarting services on the server because I can't log in to check things out. I call the ISP and there is an outage in the area. Some very low bandwidth services/static routes are working but all dns and new routes are not. There is an ISP tech working on the issue. I check on the VOIP services for the client and that is still operational over their internet.
13:45: All done troubleshooting for the client, time to go try checking into the hotel.
14:00: The hotel has a cancellation for a double queen so I take it and cancel the queen suite that they had reserved earlier that day for me as this is $40 cheaper and falls into the study allotment for a hotel stay where the suite price did not. However the double queen is not yet ready. So I will return.
14:20: I find my wife and my mom browsing the gift shop. I pick out a shirt or two.
14:35: We grab some frozen yogurt from the area.
15:00: I try to go check in again and still not ready.
15:25: I go back to check in and the room is ready. We get room 905.
16:00: I talk to my cousin Keith who lives in the Houston area about some BBQ that is accessible via public transit, he recommends Pappas BBQ.
16:15: We leave the room and head ba k across the skywalk to the light rail.
17:00: Off the light rail and walk 3 blocks to Pappas BBQ.
17:15: I order the combo rib platter. 1 beef rib, 2 pork ribs, 3 baby back ribs, mac and cheese, and potato salad. Pretty good.
18:03: All done with dinner back 2 blocks to the light rail heading south on the red line back to MD Anderson.
18:45: Back across the skywalk to the hotel room.
19:00: I find that my server is offline. I try to do some trouble shooting, but not much I can do remotely.
19:15: I ask my dad if he can go over to the office to check things out.
19:30: My dad is at the office. We start troubleshooting. I find a switch offline when I cannot get into it to check the configuration and I can't ping it. I have him check it. To speed up the process I do a Google Hangout video call with him. I see the switch but it is completely off. I have him check the electrical wires, everything is plugged in. The switch is dead. I remote into another switch and check it's availability. I have him physically check this as well. We find 3 ports available and I configure them to host the vlans needed for those servers to properly function on the network. I have him move three wires one at a time from specific ports on the dead switch to specific ports on the other switch that is functioning and check for their online status to come back up. All three servers come back online and everything is functioning at my office again thanks to my dads remote eyes and hands at the office while I worked remotely from my hotel room at the rotary house at MD Anderson.
20:30: My wife and I head down to get some more frozen yogurt.
20:40: Some more delicious frozen yogurt, the cookies and cream flavor.
21:00: They shut down the frozen yogurt stand on schedule. We finish our frozen yogurt.
21:15: Over to the park we head.
21:30: At the park, in the main building of MD Anderson on the 2nd floor. I order a small personal pizza and my wife a burger and we just hangout and talk.
23:00: All done at the park we head back over to the hotel.
23:15: We are back at the hotel room. I jump on my laptop and check into a few more things that I had clients email me about. I recover some deleted files from a backup, get a voip phone back online, and do some follow go billing.
23:59: All done with client items. Time to go to sleep… ZzZzZzZzZz…..