05:30: Up I am.
05:51: Out the door we head. My dad is dropping my mom and I off at the airport on his way to work. My wife has work and school, so she probably won't be on any additional trips until the semester is over.
06:03: At the airport we are.
06:15: Through security we are. I pick up two Zero Water's the Lemonade flavor and then take a seat at gate C5 while we wait for Spirit's flight to Atlanta clear out of C6.
07:05: Atlanta's flight is boarding, so we switch to C6 once seating opens up.
07:35: The yellow plane pulls up to the gate, our plane to Houston.
Seriously Louisiana and New Orleans Airport. Louisiana for having a law on limiting the speed on free internet, and New Orleans Airport for providing such slow internet service. Houston beats New Orleans easily with their free internet speed. Here is New Orleans internet speed at the airport.
I know its not COX because COX has great internet speeds, it is the way it is limited by the law and by the airport, sucks!
08:03: Our boarding begins. See you in the plane.
08:10: In the plane we are. In the back we are, no big front seats for this flight. However we are on the big yellow plane.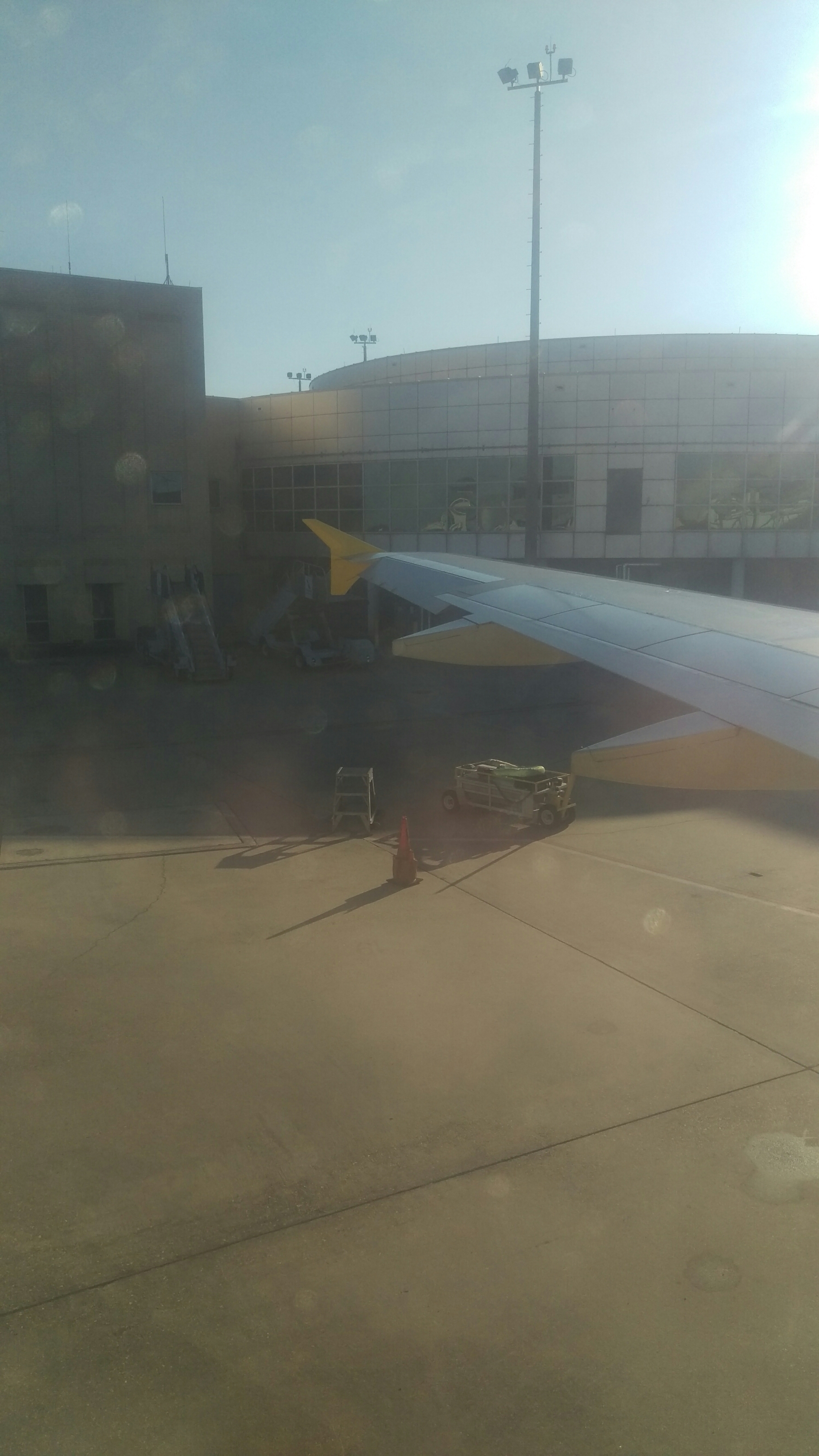 08:30: Push back.
08:37: Taxing
08:39: On the runway.
08:40: Takeoff.
09:28: Touchdown
09:35: At the gate in Houston.
09:42: Off the plane.
09:47: On the skyway.
09:50: Off the skyway.
09:56: At the bus stop waiting on the 102 express bus.
10:06: On the bus.
11:04: Off the bus. Walk 2 blocks to the rail.
11:10: At the light rail station.
11:14: On the light rail.
11:34: Off the light rail. Walking to the Duncan building.
11:40: In the Duncan Building. Bathroom stop and then across the skywalk to the rotary house.
12:00: I attempt to check into my hotel room buy the room is not ready yet, so across the skywalk to the main building to go do bloodwork I head.
12:15: I check in on the second floor of the main building at the diagnostic Center.
12:45: I am called to the back.
13:00: All done with the vampire and filling the 3 tubes of blood.
13:02: Rotary House calls me and tells me that my room is ready, so back over the skyway we head and then down to the first floor to check in at the rotary house.
13:15: All checked in and head up to the room. Today is room 321.
13:30: We head out to get some frozen yogurt.
13:45: We grab stir fry and eat that first because my mom is hungry and needs some real food first.
14:15: We grab some frozen yogurt. However my receipt doesn't print out and I need this for expenses to get reimbursed for the study. I talk to the Starbucks cashier who walls a manager.
14:25: The Starbucks cashier calls the manager again.
14:35: The manager shows up and has a bad attitude from the beginning. I explain to him that the point of sale terminal didn't print up a receipt and I need one for my expense report. He tells me there is no way that he can print kne up. I tell him then if he can't give me a receipt that I want a refund. He tells me he can't give me a refund without a receipt. I tell him so I purchased this and your system didn't get a receipt which you are required to do and now you can't give me a refund because I don't have a receipt which you failed to provide me with from the beginning. So technically your systems problems equates to you can keep my money. He then says well how do I know you paid for that and you are not trying to get a refund without paying. He turns away from me and starts walking to the terminal. I then say to him as I follow him, so what you are telling me is there is nothing you can do for me and the only way for me to get s refund is for me to call up my credit card company and dispute this transaction as a fraudulent charge because of your failure to provide me with a receipt in the first place and then you can't give me a refund because I don't have s receipt. This catches his attention and he says in a sarcastic tone if you are willing to work with me I will see what I can do. He logs into the terminal which I quickly see that he does not know how to use as he is clicking around but not pulling up reports or transactions to search for the amount box KY transaction or my last 4 digits of my card. He gets frustrated and clicks out. I tell him this is not the first time I have had issues with this machine. He fixes the paper in the receipt printer. He takes out his wallet, asks to see my yogurt, weighs it and pays with his credit card and gives me his receipt. As he walks away he says maybe I should try paying at other places for the yogurt and just leaves me there, no apologies or anything. He was just having a bad day, but that is no way to treat customers and on top of that cancer patients at MD Anderson. He doesn't know how to do his job as a manager because if he did he could have reprinted the receipt, I know this because of my profession a dealing with point of sale systems. He needs some training on the system. He also needs some training in customer service and attitude when dealing with clients. It at seem like a measly $8 to him, but when undergoing treatment, meals, travel expenses, everything I am spending money to be here, he is making money while he is here and he should be happy he has a job and his health when dealing with customers and patients.
Rant over…
14:50: I eat my melted frozen yogurt after the poor customer service I received.
15:29: We head out, back across the skywalk to the May's Clinic and Duncan building back to the lightrail.
15:40: At the light rail and on the train we get.
16:08: We get to the Bombay Pizza Company. I order my lasagna and a 12″ Indian bread crust pizza. Great food as always!
18:15: We head out, back to the light rail station.
18:25: At the light rail station.
18:30: On the light rail.
18:50: Back at the TMC Transit Center light rail station.
19:00: Back at the Rotary House.
19:05: Back in the hotel room.
20:00: I head downstairs and take my laptop with me to get me some more frozen yogurt. I setup my laptop on the empty tables around the area. This time before getting my yogurt I examine the receipt machine. I hit the feed button and receipt paper comes out so I know the printer is good to go to get the receipt. I get yogurt then check out with no issues. I do some ordering on my laptop.
20:45: I get a second helping of yogurt, testing the machine out again before checking out.
21:00: I head back up to the hotel room and continue working on my laptop while I finish my frozen yogurt.
23:30: I take a break from work and my mom and I head down to the park which is across the skywalk and on the second floor of the main building
23:40: I grab 4 drinks and head back to the hotel room.
23:55: Back at the hotel room. I put three drinks in the fridge and get back on my laptop and continue doing some work.
23:59: Still working.