05:00:  Up I am.
05:40:  Out the house we go.  My dad is driving my wife and I to the airport.
06:05:  At the airport we are.
06:10:  I check the airline prices for two weeks and purchase tickets.
06:20:  To security we go.
06:25:  At the security checkpoint.
06:35:  Through security.
06:40:  My wife grabs something to eat and a coffee.  I grab a diet Dr. Pepper.
07:00:  We are sitting at the gate.  The Spirit flight to Atlanta is boarding.  I open my laptop and start catching up on some things for last week in my blog and enter in my flight into Spirit's website for printing tickets and mileage credit.  I catch up the blog, remote into a computer to check its status, check email, and catch up on a few minor things.
08:00:  The plane from Ft. Lauderdale arrives, our plane to Houston.
08:03:  The passengers deplane.  I pack up my laptop and prepare for the flight!
08:10: The boarding begins.
08:20: We are sitting in the plane in out big front seats.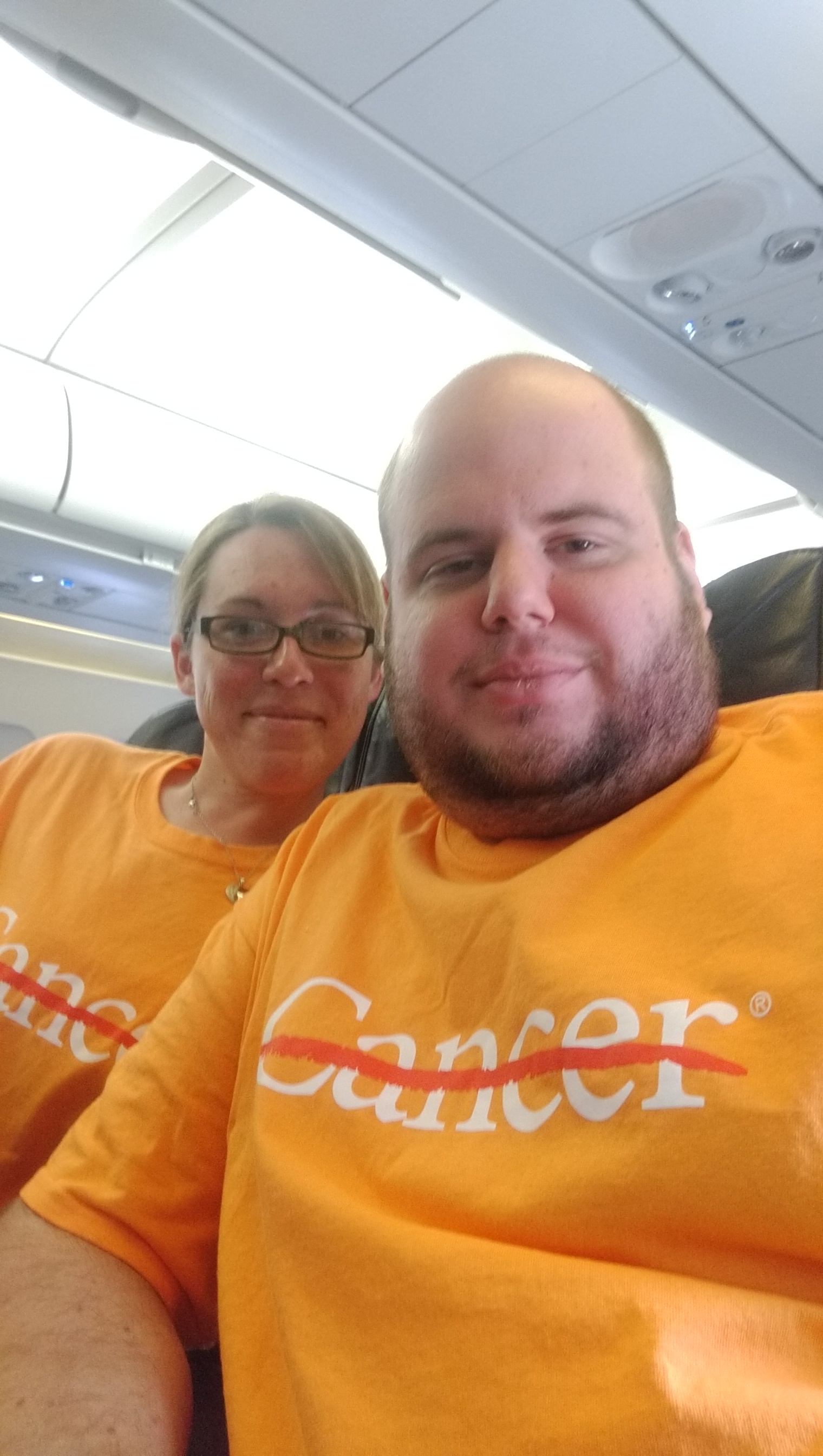 08:36: Cabin door closed.
08:39: Push back.
08:45: Taxing.
08:50: Takeoff.
09:44: Touchdown.
09:54: At the gate.
09:56: Off the plane.
10:00:Bathroom break done, time to head to the skyway.
10:35:  On the bus.
10:42:  On our way.
I get a call from a client with fax/cc line issues.  After basic troubleshooting I try to call the provider.  I can't even reach the provider as they are having telephone issues. I email a sales rep that I deal with and he confirms it is a large outage that is being worked on and should be resolved within the hour.
11:32: Off the bus.
I update my client of the providers update to me so they stop troubleshooting.
11:38:  At the light rail station.
11:43:  On the light rail.
12:13:Off the light rail.
12:18:  In the Duncan building.
12:20: The skywalk.
12:30:  I check with the hotel frontdesk the room is not ready yet.  So I give them my number.  I also check for 2 weeks and get put on the waiting list.
12:45:  I check in on the second floor of the main building at the diagnostic Center on the touch screen computer and take a seat.
13:25:  I see my name on the board and go to the front desk.  I am called by a nurse, confirm my medical record number, and am brought to the back where I am assigned a chair.  The nurse checks my left arm, does not find anything, checks my right arm, finds something on the outside of my arm and uses it with no issues.
13:40:  All done.  I go back out to the waiting room and see some emails from a client and jump into support mode attempting to resolve that issue.
14:10:  I am done helping some remote support.  I still have another text that I need to attend to, but I need to get my computer setup.  My room is still not ready, so I go grab some frozen yogurt.
14:30:  I get a text message telling me that my room is ready.
14:40:  I check in at the frontdesk and get room 406.  I think I was in this room 6 weeks ago.  I setup my laptop and get to working on client issues.  I remote into computers, forward invoice emails, and log work done for billing yesterday and today.
17:10:  All done with work.  Just quickly updating my blog.  I bet some more work to do.
18:10:  Now I am done with all the work.  Time to head out to the Bombay Indian Restaurant downtown for some Indian food.
18:25:  Out of the Duncan building to the light rail.
18:30:  Jump on the light rail headed downtown.
18:55:  The light rail station is right at the Bombay Indian Grill restaurant.  So here we are.
20:35:  All done eating.  I had a nice sampler of many things.  Bombay Feast (Serves 1) – House salad, barrah kabab, kashmiri chicken, prawn, chicken tikka masala, saag paneer, rice pulao, naan and dessert.  We jump back on the light rail heading south back to MD Anderson.
21:00:  We arrive at our stop and walk to the Mays Clinic entrance, as the Duncan Building entrance is now closed.
21:05:  Across the skywalk we head.
21:20:  We are at the park to grab some drinks and a snack and relax.
23:00:  All done relaxing, time to head back to the hotel.
23:15:  I print up our Spirit Airline tickets for tomorrow's flight home.
23:25: I am back in the hotel room.  I hit the sack…
23:59: ZzZzZzZzZzZzZzZz…