07/16/2012:
12:30: I have a temperature of 99.1 taken by my wife when she arrived home.
6:00: I have a temperature of 98.3 taken by my mom on her way to work.
9:00: I woke up and got out the Lazy-Boy and moved over to my desktop computer in the house.
9:30: I called up Dr. Yager's office to see if they had gotten the test results that I called Dr. Brinz's office on Friday to fax over to Yager.  These papers still have not been faxed over yet.  I want a second opinion from another oncologist because I just don't like a few things about Dr. Brinz's office and the way certain things or handled.  Dr. Yager is concerned about the time I am taking to see another oncologist when I should be starting treatment as soon as possible.  However because of the way certain things are being handled by the first office I really prefer to get that second opinion.   The next oncologist I want to meet with is Dr. Robert Veith.
9:35: I get a call from a client.  It appears that I am going to have to go over there and fix the problem first hand.
9:45: I called up Dr. Veith's office and give them all my information, they said that they would make an appointment with me once they receive all my test results and the Doctor's has had a chance to review them.
10:30: I get a call from Dr. Yager's office, Arleen is working on everything for me.  Arleen has been nothing but helpful in taking care of getting test results and paperwork from doctors and the EJGH Medical Records and faxed over to other doctor's to keep the process moving.
10:55: I am going to get ready to head over to my client's office.
11:00: I am heading over to my client's office, my sister is driving me.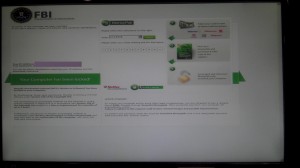 11:15: I arrive at the client's office.  I find the same issue that I saw remotely, but could not disable remotely. A false FBI ransomware message saying to go the store, buy a greendot card and put the greendot card info into the textbox provided, one the greendot card is verified it will unlock the computer.  This is a false malware issue and not from the FBI at all, if they wanted to come after you for doing something illegal, they would be knocking at your door.  I try a number of things then i am finally able to stop it from running on boot by the task manager.  I found the appropriate process which was a weird name process and stopped it.  I then tried a system restore which of course failed, and tried a few other tricks that failed.  I also tried my final scan program which I always used as a last resort and that failed as well.  I downloaded XPSP1 from my office and burned it on a CD, but that would blue screen upon every reboot.
3:10: I called my wife who said she would come pick me up from the client's office and bring me over to my office to pick up the XPSP3 CD along with the keys to the office where I was working.  I received a call back shortly saying that my mom had arrived home just as she was walking out the house, so both of them were coming to pick me up.
3:25:  We rolled through Wendy's drive through for a bite to eat and went around the corner to my office.
3:30:  I went upstairs, sorted the mail, and grabbed the keys to the client's office and the XPSP3 cd.
3:35: I was back in the car, and I ate my combo meal of the Spicy Chicken Sandwich on the way back to my client's office.
3:50:  We were back at my client's office where they dropped me off. I put the XPSP3 CD that I had picked up back into the computer and started the repair install of the computer.
4:30:  My new oncologist's office, the office of Dr. Veith called me to schedule my appointment.  They got all the test results and the other information they needed for Dr. Veith to see me.  I will see him on Wednesday.
4:45: The repair install of the computer was complete.  I was able to log back in as the user with no problems.  I then installed the company antivirus back onto the computer and restarted the computer again.
5:00:  No luck after a repair install, the only thing to do now is to copy the files to a quarantined location, scan them externally with a linux machine, and reformat the computer completely and reinstall Windows XP professional.  However it is going to take about 6 hours to copy everything off of the computer, so I am going to start the copy process and head home.
8:30:  I phone home for a ride home, time to pack up, lock up, and get out of here…
8:40: My mom and dad pick me up from the client's location and we head over to smoothie king for my supper.
8:55:  We arrive at smoothie king, they close at 9:00.
9:10: We leave smoothie king.  I got a a Hearty Apple with extra banana and immune builder, my dad gets the same thing without the immune builder.  My wife gets her normal Chocolate Shredder.
9:25: We arrive home.
9:30:  I take my pain pill.  Actually a shirt today was aggravating and not completely painful, but a numb pain when my shirt would rub the area where the port was implanted.
9:50:  I have a temperature of 100.0 taken by my wife
10:00: I have a temperature of 100.7 taken by myself.
10:50: I take a luke warm bath and then shave my face and head.