07/22/2012:
12:05:  I am still watching TV, and finishing up one last client's update.
12:50: I have a temp of 100.1.
1:00:  I am done working on computer work for tonight.  Time to lay back, relax, and rest a little bit.
7:50:  My dad wakes me up by turning on the TV in the den where the Lazy-Boy is for the implosion of the Grand Palace Hotel implosion. My dad and my mom used to live in that building right after they were married. My mom was in nursing school at the time and she could walk to school.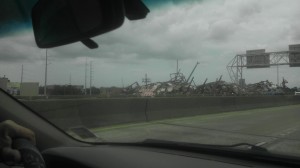 8:00:  The building implodes: Grand Palace Hotel Implosion
8:30:  I doze back off.
10:00: I wake back up, and my wife is up getting ready for work.  Just thinking about tomorrow making sure I have everything ready to go in my "Little Black Back Pack" LOL  I got some snacks, hard candy, my rubik's cube, and that's about it.  I'll do some more research online today to see if there is anything else I should add.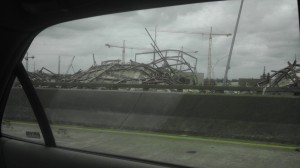 10:35: My wife leaves for work.
11:00:  I help my dad move the BBQ pit that I had put together for Father's Day that was inside waiting until we scheduled the plumbers to run a gas line from the attic to outside, but then the news of my issue came about, and we just never had time to call back and schedule a plumber to run the gas line.  Hopefully once my chemo gets started and we are on routine again, we'll get that done soon as we can't use a natural gas BBQ pit without the natural gas…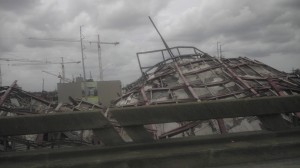 11:15:  I am back inside, it is hot outside.  I didn't do much but help my dad move the BBQ pit, and I am coughing from the tumor pressing on my trachea.   So I just sit back in the lazy-boy and watch some TV, while I continue to cough for a few more minutes.
11:40:  Food is served, beef stew, yummy.  I can't eat my usual whole big bowl, but I have a nice helping.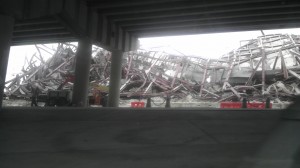 12:30: My dad and I left the house headed to the office.
12:45: We arrive at the office.  I gather my soft bristled tooth brush for home and my rubik's cube for my Chemo Bag.  My dad opens up the front door to the office to check the mail, while I checked out an issue across the hall, but they had resolved the issue themselves.  I will completely resolve this issue later when I can, but for now the work around is what I would have done.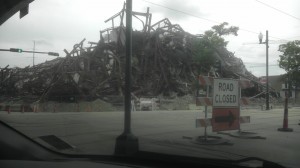 1:10: We then lock up, head back down stairs, and off to a client's office Uptown.   We passed the building that was imploded on the opposite side the interstate, and then exited the interstate turned around, and got back on the interstate in the other direction, the side closer to the imploded building.  I took plenty of pics with my phone.  We then continued on to the client's office.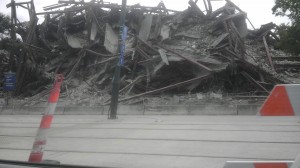 1:25:  We got to my client's office.  When I got there, I moved a power strip supplying one server from one UPS to another UPS because the batteries in the first UPS were failing, and need to be replaced.  I took the failing batteries out of the failing UPS and had my dad carry them back to the car.
1:40:  We left the client's office and headed to Walmart.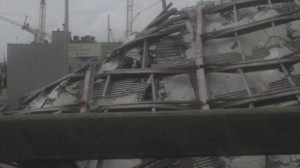 1:50: We got to Walmart, and then searched for some full button down relaxed fitting shirts for Chemo Treatment Days.  And some lime green pants.   Lime green because I found out that that is the color given to supporting my cancer.  We got what we needed fairly quickly, and checked out.
2:15:  We are back to the car, it is way to hot outside for me to being doing leisure activities, lol.  I need to go home and just rest a little more, I can feel myself pushing myself just a little.  We are on our way back home, but we are going to pass the implosion site one more time.  We pass on the ground level this time the first pass, then back onto the interstate for the second pass heading back home.
2:35;  We arrive back home and my Mom and Sister are cleaning the house, trying to make everything as clean as possible for tomorrow since tomorrow will be my first Treatment Day.  I just sit in the lazy boy, I update my blog, and I am about to post pics from the implosion site, so those are coming soon!
3:00: Done posting the pics to the blog, also emailed my dad all the pics that I took because I only posted 7 out of 34 that I had taken.  I then told my dad how to log into his gmail account and how to forward and email to a coworker of his, as he usually does not use gmail for his emails.
4:30:  I go outside and put the garden hose, that was moved to the grass so that my dad could cut the grass, back into the garbage can and start the siphon process by submerging half the hose into the can and then pulling it out fairly quickly but leaving the end of the hose still in the bottom of the can. We use this garbage can strictly to collect the rain water off of the patio to add fresh water to the pond.  This also skims the dirt off the top of the pond by the overflow since the pond is at the brim from  all the rain water we have had in the past few days. I also grab some of the pine needle's that are floating and other larger debris. I also throw the ball 3 times to buster, and then finally come inside, that's enough for today.
5:30: I am back inside back on the lazy-boy watching them finish cleaning the house.  I am going to attempt to take a nap, maybe, I hope…
7:15: I wake up from my nap, my wife is home and she has brought home some food. I sit at the table, but have to wait to they are done doing the last little bit of cleaning.
7:45: Supper is served. Country Fried Steak and mashed potatoes, Yummy!
8:30: Time for a bath… I first have to remove the bandage from my bone marrow biopsy. Not too much fun, but I am not letting anyone take the bandage off my back either, I will take care of that myself.
10:00: I am out the bathroom and into my room and into my bed for once, so nice… My mom comes and talks to me and I ask her as many questions as possible on the drugs I need to take tomorrow before my chemo, as I have a handful new drugs from Dr Veith for pain, nausea, and even anxiety, I figured it wouldn't hurt to ask after getting weak when he was trying to access my port. All those medicines were thrown into a ziplock bag and I will put them into my chemo bag tomorrow… Goodnight