08/06/2012:
10:20: I am awake.
10:30: Still laying in bed, but following up with emails on my phone.
10:45: I am up out of bed and take Buster out.
10:50: I get a phone call from a client verifying some information.
11:10: Picking out my clothes for today.
11:20: About to jump in the shower.
11:30: Shaved my head and face.
11:45: I jump into the shower.
11:52: I am out of the shower.
12:00: I am dressed and ready to go.  Just need to get my laptop and liquids.
12:10:  My sister and I are leaving the house heading to the office to pick up a server and toner for a doctor at EJGH.
12:17:  We get to my office and I go upstairs and get the toner and server and bring it down on a hand truck and then bring the hand truck back upstairs.
12:25: We are leaving my office.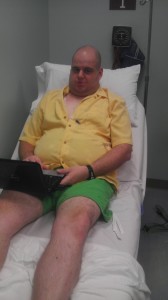 12:35: We get to the doctor's office.  I hook up the server and there is an issue starting it.  I open it reseat a cable and then the server starts up with no issues.  They just need it to run a few last reports as this is an older server that is being removed in less than a month.
12:50: We are heading over to the Yenni Treatment Center.
12:57: We park.
1:00: I check in at the front desk and sent upstairs.
1:05: I am seated in a chair by the front desk upstairs waiting to be shown to a chair or bed.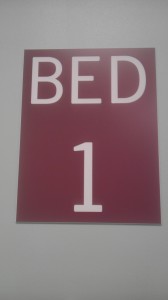 1:20: I am shown to a bed and now sitting here waiting for my vitals to be taken.
1:30: I am just quickly updating the blog about to start the ustream video.
1:40: They take my vitals.  122/87 for my blood pressure and 99.0 for my temperature.
2:05: The nurse comes in and has me sign my consents for the 4 Chemo Drugs they are going to pump into me today.
2:10: Time to access the port 😛
2:15: The port has been accessed.  I didn't feel a thing.  Thank goodness for the lidocane cream.  They stuck me with the needle into the port and I didn't feel a thing!  They start the saline fluid drip.
2:20: My wife arrives.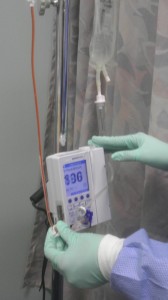 2:31: They hang my emend bag and start pumping that into me.  This is for anti nausea.
3:01: The Zofran and the Decadron beg is hung and starting to be pumped into me.
3:25: The Adriamycin is starting to be pumped into me.  See the nice red color 😛
3:40: They want to flush the Adriamycin so they hook the saline drip back up.  However there is a 1 foot gap of air in the line, so i hit the stop button on the IV pump.  The alarm comes off, they ask what's going on, and I tell them.  They pump up to a certain part and then pull out the air from the line with a syringe hooked to the line and then continue pumping
3:50:  They hook up my Bleomucin and start pumping that into me.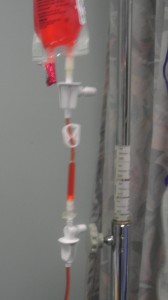 4:17: They push  the Vinblastine out of the syringe.
4:20: They hook up my Dacarbazine and start pumping that into me.
4:25: I am eating some fries from Wendy's with no salt.  My wife is also providing me with Nabisco Graham crackers and Apple Juice and Crangrape Juice provided by the center.  Good stuff, simple, and bland, hard to get sick off of this.
5:00: The Dacarbazine is done, they are now just flushing me with saline  They take my vitals. 122/79 for my blood pressure and 98.6 for my temperature.
5:07: The pull out the needle and put a piece of tape over me.
5:15: I am packing up my laptop, and we are heading out of here!  I am riding home with my dad.
5:30: We get home.  I feel the side effects of the Ativan kicking in good now.  A little woozy with a little bit of a whatever I don't care attitude.  Great for days of getting Chemo and not really worrying about what they are doing to you or thinking too much about it.
5:45: I am sitting in my Lazy-Boy with my Dell Mini.  Updating the blog, checking emails and just a few things in between.  Feeling a little bit out of it, but I am still good to go.
6:15: This fighting with being out of it is not working.  I am getting tired and can't even talk.  Time for me to take a nap.  I put my laptop down and doze off.
9:00: I wake up, that was a nice nap.  I pick up my laptop and continue to work on what I was working on.
10:30: My mom warms me up some corn and chicken chowder soup.
10:40: I finish that and ask my dad to put together some chicken noodle soup for me.
11:00: I catchup my blog for tonight.