09/26/2012:
12:00: So yep, I am still here working.  Everything test out, so I go ahead and tape everything up and secure everything.  One last thing I gotta do is to punch down the backup lines to regular phone jacks so that incase the phone system was to go down, the internet was to go down when we move over to the VOIP system that we have backup lines going to the front desk for them to still be able to answer phones  I tone the wires to the closet and then punch down the backup numbers on those two lines.  I then test out that work.
1:00: I am done, everything is tested out with no issues, time for me to head on home.
1:05: I am in my van heading out.
1:20: I get home.  I start putting together the final invoices for all the work I have done so that it can be invoiced for insurance purposes after the lightning strike.
2:30: I finish up all the entries into the work orders and close them out for invoicing.
3:00: I run the invoices and then email them to the client.
3:30: I go ahead and knock out, been a long day…
8:45: I get a call from the client who's phone system I changed up last night.  They are confused with the lines that are missing.  I tell them that all the phone calls are still going to be received and come in on the main line, the buttons on these phones can handle up to 8 calls per button.
9:04: I get a call about a monitor not working.  They simply replace the monitor with another monitor they have in the office.  I have to make a toner delivery later tonight, so I will check out the monitor that wasn't working when I deliver the toner. I doze back off.
10:37: I am awaken by a call from the phone system client.  They want to know how to pick calls back up that are on put on hold, before they could just select the line that is on hold, but now that all the calls are on one button, they have to scroll up and down the list of calls that are on hold and select the one they want to pick up.  I tell them to call me back if they have any additional issues or questions about the phone system.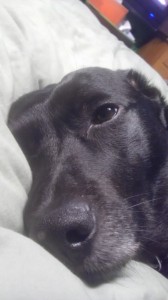 10:40: As I am getting up, I notice that Buster attempts to get up and freezes in place.  It almost looks like he is having a charlie horse and can't move his back paws.  I calm him down, and then he seems to be better then it hits him again.  I calm him down again, and then he starts gagging, and I pick him up off the bed and put him on the floor where he walks towards the door and vomits on the floor right before the door.  I then take him outside where he goes about 5 feet and pees on the cement which is unusual.  He then comes back inside and starts walking sidewards and acting weird, I have him lay down and not move.  When he seems to be better I have him get up, and then the charlie horse type symptom hits him again and I lay him down.  I clean up the vomit, and I then get dressed.  I then put his leash on him, and he seems fine and runs to the door with no problems.  He then has some diarrhea on the sidewalk on our way to the van.  I wait to he is ok before attempting to get him in the van because he gets that pain look again.  I then drive him to the vet.  He gets out the van with no problems, and I check him in.  He weighs 45.6 lbs.  We then sit around for about 30 minutes while we wait to see the vet.  The whole time he is in the vet he is acting normal, barking at other dogs and people that walk in.  We then see the vets assistant in the examination room who takes down everything as I go through what I just said.  I then wait for about 10 minutes in the examination room and the Dr comes in and see us.  I go through the whole situation that happened which brought me here.  He thinks it could be a few things, but is leaning towards pancreatitis. The doc says to leave Buster with them, and that he will possibly keep him overnight.  He wants to do some bloodwork, xrays, and also observe his behavior.  He will start treating him for pancreatitis just incase, and wait for the bloodwork results for further evaluation.  I leave my poor boy there, and head on home to get a shower and head to work.
12:45: I get in my van and head home
1:00: I am at my house.
1:10: I jump in the shower.
1:20: I jump out of the shower.
1:30: I jump into my van.
1:40: I am at McDonalds getting 2 McDoubles.
1:50: I am at my office.  I start working on finishing the laptop which I had to put the new hard drive in.
2:15: I call up a client who had left a voicemail earlier.  They are referring me to a client who is having some computer issues.  The main issue is the black screen of death on Windows Vista.  I inform him to do a system restore and then disable Windows Updates and the problem will not happen again.  He is also going to install my remote software on the computer so that I can remote into it at a later time and clean up the laptop for his friend.
2:35: I call up COX and complain about my upload speeds.  They say that there is an outage in the area and that could be affecting my speeds.  While I am not completely down the outage can cause some unwanted side affects.  At least the network is still up.
2:56: Doc calls me to update me on Buster.  So far so good, no more diarrhea and no vomiting, so the doc likes what he sees, but he tells me he will keep him overnight for observation.
3:00: I go back to applying updates to that laptop.
3:30: My business partner stops by to pick up some mail and to briefly chit chat on what we have to do to for our other business venture.
4:20: My business partner gets back on the road to head back to Chalmette.
4:30: I am done with the laptop, all updates have been applied, and basic programs have been installed as well.  At the same time I get a phone call from a client who is not able to get any of her emails.  It turns out that someone is working on her website, and they changed all the DNS settings for her domain name to a new server that is not even setup yet.  All the emails that are destined for her are hitting this new server and all of them are starting to be rejected because her email is not setup on the new server.  I go onto Google and start researching all the setting that I need to set to get her emails flowing back to the Google's mail servers.
4:40: I go down the hall and give the laptop back to the client.
4:45: I remove all the settings that the other person had made and only added 3 entries back to point to his server.
5:00: I get a call from the client with the phone system telling me that phone calls are still coming in.  I connect to the server real quick and check things out and it just so happens that they forwarded the wrong line to the voicemail system.  I have them unforward that line and have them forward the correct line, and that resolves their problem.
5:05:   I then added 10-15 entries to repoint everything back to Google's services for her Google Apps and emails to work properly again.  I then update everything and then able to ping everything once connecting directly to the DNS servers that I made the settings on.
5:45: I call the client and update them that all the settings have been changed back to what they should be and it will take 24-72 hours for the settings to update throughout all the servers across the world.
6:30: I head on home for diner, Popeye's Fried Chicken.
6:45: I get home.  The chicken is good, but a little tough and maybe cooked a little too long.
7:00: My dad and I go back to my office and pick up some toner that I have for a client and 2 batteries for a UPS.
7:30: My dad and I leave the office.
7:50: We get to the office uptown.
8:00: I shutdown all the virtual servers on the main server that is going to be moved to the UPS that we are putting the batteries in.  While the updates are installing, we unpackage the batteries then I add the connection bars and wires to the batteries, then slide the batteries into the UPS.  I then connect the battery cable to the UPS and the UPS recognizes the battery as a good battery and starts charging it.  I put the UPS back together.  While I am waiting for the updates to complete. I put the toner up.  I also put the monitor that wouldn't work this morning back in its spot, and it powers up with no issues, my dad then moves the borrowed monitor back to its computer in the other room in the office.  We then go back to the server which is finally done installing updates and shuts down.  I unplug the surge protector from the other UPS and bring it over to the UPS that we just put the new batteries in.  We then bring the server back up online, make sure its boots up and the updates were installed correctly, and make sure that the virtual servers come back online.  Everything comes back up with no issues, so we pack up and head on out.
9:00: We are back in the car, and heading back to the house.
9:20: We get back home.
9:30: I call the doc to check on Buster.  So far so good, no more diarrhea and no vomiting, so the doc likes what he sees.  He will update me on Buster about 9:30 tomorrow morning.
9:40: I am laying in bed.  I order 3 backup licenses for three different clients who's backups are expiring.  I then apply these 1 year license renewals to the accounts.
10:00: I remote into a laptop I was working on at the office and finish updating all the updates for it.  I will have to transfer files tomorrow.
10:30: I go back to admin work and billing for the work I have done the past few days and today.
11:59: Another day over, I'll get an update on Buster in the morning.