11/22/2012: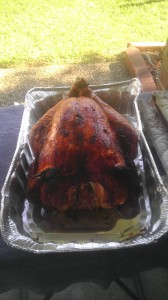 Happy Thanksgiving Everybody!
3:13:  A client send a text message to my office phone line.  Well since the office phone lines ring my house as well, including my bedside, it wakes me up.  I listen to the message and it is just to say Happy Thanksgiving.  What a wakeup call.  I get comfortable again and fall back asleep.
9:15: I wake up and get out of bed.  I know we have 3 turkey's to cook, one for my Uncle Jack and 2 for us.  My dad already has my Uncle Jack's turkey in the Big Easy.  It's just like frying a turkey without the oil, but some people will never understand the concept.  The way the Big Easy cooks them it gives the skin the same appearance as that of a fried turkey that is droped in oil and fried.
11:20: We use this item called the turkey cannon.  We fill it up with a cup of Chardonnay and put it on the BBQ pit.
11:40: The turkey that is in the Big Easy is done.  We take it out and take a few pictures of it ->.  There is this turkey to the right in all three pictures.  We then wrap it up and put it in an ice chest and ship it over to my Uncle Jack.
11:50: We prepare the next turkey to put in the Big Easy.
12:05: We put the turkey in the Big Easy and fire it up.
1:30: The turkey in the Big Easy is done.  My dad takes it out, takes it inside and starts carving.
2:00: The turkey on the Pit is done.  We just leave this one outside on the table to cool off.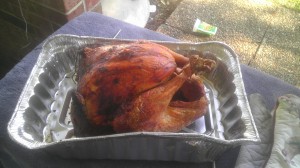 2:20: Everyone is now serving themselves, and I need to go fix my plate, I'll update ya'll after I eat 🙂
3:30: We are done eating.  I go outside and throw the ball with buster.  He brings a ball back and drops it at my feet with no problem.  A Frisbee is a different story, he likes chewing the Frisbee, so playing ball it is…
4:30: Buster and I head back inside.  Time for some desert  I eat a piece of apple and pumpkin pie.
5:00: I sit in the chair and watch the games that are on.
6:30: I start dozing off…
7:00: I get up and go lay down in bed.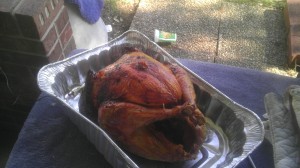 9:00: I wake up.  I check a few things on my computer in the living room.
11:00: Back to bed for me, I go lay in bed and pull out my laptop again.
11:59: Another day done with.  I had plenty of food!  Yumm yumm!