07/24/2012:
12:30: I am just up, watching TV, dozing off here and there, and catching up and polishing up my first chemo experience, and drinking plenty of fluids for a better flushing effect.
03:15: It's time to go back to sleep.  I'll catch you in the AM.
10:17: I wake up, and wake up my wife to get up and get ready for work.
10:20: I let Buster out.
11:00: I am on my computer following up on emails.
11:15: I eat 3.75 scrambled eggs and 2 slices of toast.  It's my blog I can be exact and put 3.75 instead of 4.0!  I also drink my Gatorade.  Blah, I am going to have to explain this for all the people wondering the odd 3.75, too many questions.  So my sister cooked me 3 eggs.  I told her that I could eat more.  She then cooked 3 more eggs for herself.  I took a 4th of her plate of eggs, meaning that I took 0.75 eggs of her 3 eggs.  So my 3 eggs, plus her 0.75 eggs is where I come up with the 3.75 eggs.  This had to be exact for the next timed entry.
11:35: I am back on the computer, back on www.livestrong.com.  This website was created by Lance Armstrong to help people with their nutritional goals.  You can gain weight/lose weight up to 2 pounds a week, or you can maintain weight as well, just set your goals, put in everything as you eat it, and it will tell you how many calories you have left to consume for the day.  I have used this with success many times before, now its time to use it to maintain my weight throughout this Chemo if at all possible.  I may loose some, but I can afford to lose some 😉
12:15:  Back to some browsing.
12:30: Back to some business admin work, just working from home today.
12:55: Chemo hiccups, maybe, I don't know, started at 12:55 and still ongoing here at 1:55.  Blah!!!
2:15: The hiccups have stopped, yay.
3:00: And the hiccups begin again…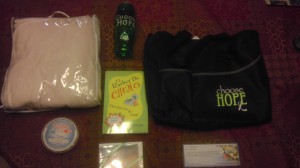 3:50: My dad arrives home, and opens up the package that arrived for him today.  It is actually a present for me, a chemo day bag to bring to treatments with me.  It includes a blanket, water bottle, a book to read on chemo, a small container of queasy drops for me to suck on if I start feeling nauseated during the treatment.
4:00: The hiccups have stopped again!  yay!
4:45: I had to update the 3.75 egg entry so that people could understand how I got the .75 eggs.
4:49:  Oh boy the hiccups are back. 🙁
5:23:  The hiccups have stopped again! yay!
5:30: I open up my google drive and update my medications with all the new medications I have for anti nausea and anti gout medicines.  I can access this from my phone when filling out new patient forms and it's another way to always have a current list of medications on hand, this list is also shared with my wife, and she can open it up on her phone as well.
5:45: I start testing out Ustream which Jamie referred me to, to use to integrate into my Chemo Day posts.  This way you can watch, if you want the events of my chemo days.  Nothing too exciting, just the huber needle placement,  the infusions of pre meds and the ABVD, and then some more flushing, the removal of the huber needle and bandaging up.
6:20: The hiccups come start up again.
6:40: The hiccups have stopped again! BLAH
6:45: I got outside for a little bit and walk around the front yard.
6:55: I am back inside updating this post.
7:05:  My wife arrives home.
7:15: I eat 3 baked chicken legs that that my wife brought home from work, then two helpings of baked catfish covered in tomato sauce and broccoli that my mom had put cooked.  Mmmm good stuff.
8:10:  I am watching the Franklin and Bash episode on my laptop that I missed last week.
9:00:  I am watching the Franklin and Bash episode on TNT and during commercials continuing the Franklin and Bash from last week on my laptop.
10:10:  I am done watching both episodes and caught up on my Franklin and bash.
10:25:  I have to finish working on a client's issue with an application on their computer.
10:45:  I finished working on the application.  I will follow up withe the client in the morning.
10:50:  I have to finish some billing for yesterday.
11:00:  Time for a bath.