7:15:  I wake up, get out of bed and get ready to leave for the Jefferson Ambulatory Surgery Center.
7:55: Left the house with my mother driving me to the surgery center.
8:03: Arrived at the surgery center.
8:05: Checked in and my mother had to sign a paper saying that she would be driving me home and that I wouldn't be driving myself home partially sedated.
8:08: Sitting in the waiting room.
8:20: They bring me back to the patient/recovery room. They give me a gown to put on. They start prepping me asking me all the questions they asked me yesterday again. Time to start the IV I tell them I am a hard stick and that I want some lidocane or they are not starting the IV. She says luckily she has some lidocane. I tell her to stick my left arm as the right one has had no luck. I tell her that they can't see my veins and they will have to do it completely by feel. She then gives me the lidocane and and then tries to stick the vein, but it starts rolling on her. It gets a little painful and she says she is just tryin to get the vein because it is rolling under my skin. She then has the other nurse come hold my vein so she can stick it. She then is able to get it started with no problems. They hook me up to the fluid bag and start the drip and give me some antinausea medicine in the IV line too. The nurse then puts the wraps around my legs and turns on the machine to start pumping them up and deflating to prevent blood clots in my legs.
8:40: They are done prepping me and my mother comes back to the room. I am just sitting here waiting to be rolled into surgery.
9:30: They roll me back.
9:45: Anesthesia by Mr Randy is started. Time for a nice sleep
Below is what they are implanting in me.
Power-Injectable Port Profiles
Smart Port® CT Power-Injectable Port
Blue boot strain-relief mechanism offers a secure feel and snug fit
Silicone-filled suture holes available for ease of explants
Fluoromax® 100% silicone radiopaque catheter with an atraumatic radiopaque tip – also available in polyurethane
Footprint (in): X: 1.045, Y: 1.053*; Height (in): 0.520; Septum Diameter (in): 0.470
Identifying a Smart Port Power-Injectable Port
Smart Port® power-injectable ports can be identified by the Smart Angle® identifier technology on the CT and CT Low-Profile power-injectable port models. The CT engraving on all models can be seen through chest X-ray or scout scan.
Features and Benefits
Vortex Reservoir Technology – Helps prevent sludge build-up and reduces occlusions and infections
Indicated for Power-Injections – The ability to perform power-injections of contrast media for the purpose of CT imaging
Superior CT Identification – All Smart Port CT models include identification on the bottom of the port for visualization under X-ray or scout scan
More choices for patients, physicians and clinicians – Varying catheter materials and sizes, placement options and port body styles.
10:45: I am coming out of my sleep.  I was told the procedure itself took just 28 minutes.  They hit the vein with the first shot, and didn't puncture my lung, yay!  The hard part was creating a pocket to put the port underneath my skin.  I am a younger guy and my skin is tough and thick and doesn't stretch easily at all.  So he had to put me into a few different positions to get it properly under the skin.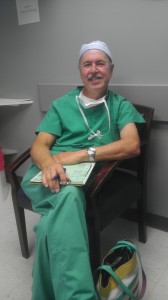 11:00: I am back in my room.  Mr. Randy comes in and checks on me and talked to my mother for a little while after the surgery since I was the last one he had for the day.
11:10: The nurse gives me a Percocet for pain that is a 2 on my right top chest where they put in the port.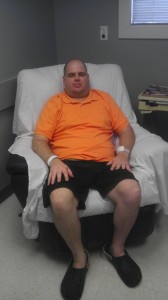 11:20: They move me into a lazy-boy chair with more animal crackers. Waiting to get a chest xray to confirm port placement.
11:45: Just about to go do the chest xray.
12:00: Back from the Xray. I can feel the Percocet kicking in, a little light headed, but feels good, since i never drink or do any drugs.
12:10: The nurse goes over everything with the pain medications and surgery follow up.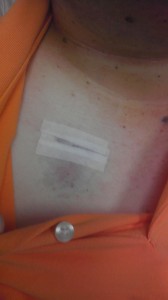 12:25: I am discharged, one final blood pressure reading.
12:30: The nurse walks me to the doors.
12:35: I am back in the car, don't worry my mom is driving, heading to pick up something to eat before going back.
12:45: At McAlisters, my mother runs in to pick up the order while I wait in the AC car.
12:47: She is back at the car. We are now headed to CVS by the house to drop off the prescription.
1:00: We drop off the prescription at CVS. They ask if the generic brand is ok. We asked if they even has the brandname in stock, they said no. We called my sister, Katie, who is a pharmacist, and she said the generic brand is fine for this drug.
1:15: We arrive home.
1:20: Lunch is served.
1:35: My mom says I am blogging too much and too much info, I tell her this all a distraction for me and to include as many details for others who will be in my shoes facing the unknown as well and will not be going into it blindly.
2:00: I am done eating and talking.  I get my laptop and my phone and get ready to rest in the chair.  I bring Buster outside in the back yard, check on the fish in the pond in the backyard too while I am outside.  I then return inside.
2:15: I am back inside sitting in the lazy-boy.  I turn on Everyone Loves Raymond and relax a little bit.
2:40:  I email the pics from my phone to my gmail account so I can post them in this post.
2:45: I am catching up from lunch to now, and about to post the pics.
3:20:  I am talking to Jamie, and said that he said I looked like Charlie Brown and the Great Pumpkin in my pictures.  Guess I need to find me a yellow shirt with a zigzag black pattern on the bottom half of it.
4:15:  My father comes home from work.
4:30:  My father is out on his mission to retrieve my prescription from CVS.
4:45:  My father returns with prescription.
5:00: The news is on, and the only things on the news is about Drew Brees signing his 100 million dollar contract.
6:30: My wife has to play chef at work today and she comes home exhausted from work. After she tells me hi she is off to the bedroom to rest and sleep.
7:00:  Aunt Estella and Uncle Victor come over to visit 🙂  I talk about my day and go over the events for today and the the plans for next week.
7:45:  They leave and I turn on the TV and watch Napoleon Dynamite.
7:50: I began working on a clients computer remotely that was running slow and glitchy.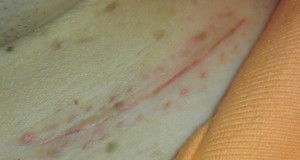 8:30:  I go to the bathroom to clean my face with some new face cleaner because my skin has become really oily ever since the Lymphoma diagnosis, biopsies, etc.  I notice that they took off my sterri strips on my neck biopsy.  I just saw this doctor the day before and he said to leave them on till they fell off by themselves.  I guess during the prepping me for this port placement, they got it wet with the iodine and alcohol that it just came right off my neck.  So here is a shot of what my neck looks like now…
9:00:  Scary Movie came on next.
I watch this as I was waiting for the computer to scan. I had the fan on high and was under a thin sheet as my body temperature has been steady, but my sense of what my body feels as a comfortable environment temperature are alternating constantly between hot and cold. I can feel heat rolling out from under the blanket and I can feel my ears getting hot.
11:10: I ask my mother for a thermometer and she wakes my wife for thermometer out of our room. The thermometer is one of those that you hold against your temple for the reading. The thermometer says 99.3. We find another digital thermometer that reads 100.8. And then ny mother finds an old skool mercury filled glass thermometer that has to be shaken to be reset before the next reading. This one reads 100.3. So I am running a temperature. We find the paperwork that I was discharged with and it says don't call the doctor's office unless the temperature is over 103, and that it is common for a low grade fever to run after a port placement.
Time to start drinking cold fluids and remove the sheets and shirt to help cool the me, because where my back is against the chair and can't breathe feels like it is burning up.