06/10/2013:
12:15: More labs taken as the normal routine goes.
12:30: Just watching TV.
1:00: Weight 257.6 LBS.
1:30: I start dozing off.
4:00: Vitals.
5:30: Back Off to Zzzzs.
6:30: Dr. Miller checks on me.
7:00: I turn on some TV.
8:00: Breakfast is served.
9:00: They start setting me up for the transplant.  Getting my meds together, prepping the layout of the room, getting it coordinated with those who are going to get my stem cells from the liquid nitrogen and defrost them and then give them to me.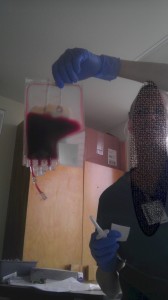 10:00: They get everything rolling.  They give me some Tylenol.  They also give me some Benodryl via IV to prevent any itching with the administration of the stem cells and the preservative that the stem cells have been mixed with.
10:10: The Benodryl is taking its affect.  I am feeling out of it…
10:20: They bring in the first bag.  I take a few pics of it and the setup.  They gravity feed the stem cells back into me.  They have 4 – 75cc bags of my stem cells.
10:30: I start to doze off.
10:35. They are done the first empty of bag 1, they fill up the bag a little 4 times with saline and let that gravity feed into me too to make sure that all my stem cells are flushed backed into my system and none are being wasted by being stuck in the bag.
10:50: They are done flushing the first bag.  The nurse calls for the second bag of platelets which are in the process of being thawed out.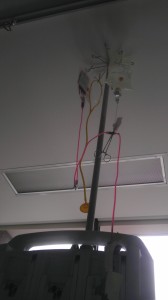 11:00: I am knocked out.  Nothing exciting going on anyway, I'll just nap!
12:30: I wake up and they are finishing up my last bag.  Pretty uneventful, sleeping time.
1:00: I eat lunch as normal.  A little groggy still from the Benodryl.  I am in the mood for some burgers for supper and send my mom to go get some fresh meat, cook it, and bring me in some fresh non hospital food.
2:00: I fall back asleep.
4:00: I am awake for vitals.  Supper is served, but I am going to wait for my burgers.
6:00: My homemade burgers get here brought to me by my mom and dad.  Yummy.  I eat three burgers.
7:00: Just watching some TV now relaxing.  Not much computer work now, just too tired, just wanna watch TV.
10:00: My parents leave.
11:59: Transplant day done.  Just relaxing and watching TV.
Next Day: http://craig.handsfreehelp.com/stem-cell-transplant-day-1-2