06/08/2013:
1:00: Yada takes my blood, one throw away syringe, one to put into the vials.  Yada also weighs me, 259.0.
1:30: I completely uninstall a virus monitor software program on a test server and reinstall the program.
2:00: Done reinstalling, I will continue to work on this tomorrow.
2:15: Time for me to doze off.  Yada comes in to take care of the beeping IV pump.  I ask her to turn off the light by the sink on the way out the door.
2:25: I am out!
4:00: I am awaken by Yada to take my vitals.
4:05: Back to sleep.
6:00: My dad shows up.  He came with the lancets for my blood sugar.  The lancets my mom uses to take her blood sugar hurt a lot less than than those used by the hospital, ouch!    So he brought a number of lancets for me!
6:15: We turn on the Rifleman and watch a few episodes of that.
6:30: Yada comes in and checks my blood glucose, it is 145.  I even take it on my meter to double check, 145 is really good compared to what I have been getting.
7:15: The fellow comes in, listens to me breath, and happy that my blood glucose this morning was 145.
7:45: My new nurse Alicia comes in and take my vital signs.
8:00: No food yet?  The nurse comes in and tells us that the food people are not allowed in our wing since many of us cannot have dairy and many other particulars that are served on the diet due to being neutropenic.  Certain foods can really hurt our bodies or really makes us sick with the state that we are in.  She didn't answer the door quick enough and the food lady took all the food elsewhere with nowhere to be found.  So we will have to wait for redelivery.
8:20: The food is redelivered, but now we all have to wait while the nurses warm up all of our breakfast's in the microwave.
8:30: I get my breakfast.  YUCK!  I ate the single 3 inch by 3 inch waffle and the 2 3 inch sausage links, I didn't eat the disgusting oatmeal again.
9:15: The fellow and the doctor on call visits the rooms, everything looks good, he is in and out in 5 minutes.
10:00: I am working on a phone call from a client who is installing some ram that I had purchased for them.  They are located in Franklinton, about 90 minutes from New Orleans, and considering the situation, it was easier to have them install the hardware for me.  I talk them through it and they will call me back if they have any issues.
11:00: I get up and brush my teeth by the window.
11:15: Done brushing my teeth and cleaning up, I can't eat anything in 30 minutes anyways because of the mouthwash, but in 30 minutes it will be time to eat again.
11:45: The nurse comes in and takes another blood glucose reading.  It is 228.  She gets the insulin to hits me up with.
12:15: Lunch is here.  Potatoes and meat loaf, not too bad.
1:00: Potty break before my chemo…
1:30: I get a call back from the client with the RAM.  They were able to upgrade the ram in the server, but now another computer has an issue.
2:30: The nurse comes in and changes the the saline bag and also gets ready to hang the Mesna.
3:20: Dose 2/2 of the Cyotaxan starts.
3:35: I start feeling the effects of the chemo.  my eyes start to get blurry and I have a tickle in my throat.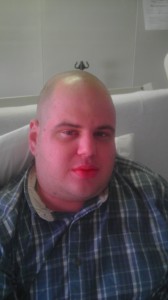 3:40: The mouth is spicing up, hot!
3:45: Unbearable, nose running, mouth burning, headache starting.
3:55: The nurse comes in and tells me I only have 25 minutes left of the chemo, oh thanks!  25 more minutes of pain?
4:05: Oh… No fun, ouch, ouch, tears dripping down my face, not from crying, just from the pain, my nose is running from the itching feeling, sneezing, etc.  My mouth is on fire, the Popsicle I am eating don't work too well.
4:25: The chemo is done, I hit the call button, the nurse comes and unhooks it, she asks if I am ok, my face is all red, I am just laying in the bed.  I tell her I'll be OK, I just need to get control of this headache.  I took the two Tylenol about 15 minutes ago, but no positive relief.
5:00: I am still laying in bed, the headache is just pounding.  I ask my dad to close the shades, any light is just hurting my head.  He does it and also asks if I want a cool ice rag for my head.  I figure it can't hurt, and I'll try anything right about now to get my head to stop hurting.  It helps a little but not too much.
5:10: I am up, trying to pee the fluids out of me, yes pee, I am convincing myself that peeing and releasing pressure will help me feel better.
5:15: That didn't work.
5:20: I am walking around the room, it makes my head feel a little better, but doesn't get rid of it.
5:30: I am back in the bed, oh my head, maybe if I eat something, but I am feeling a little nauseated, I really don't want to eat.
5:45: The nurse comes back in and asks about my head, I tell her it is still hurting. She leaves to call the doctor to see if there is anything else I can take for my headache.
5:55: I sit up in bed and my dad gets my plate and puts it on my desk tray/computer chair.
6:00: I put the mayo on the chicken sandwich.  It is very dry, I ask my dad to mix me my drink.  He takes the big cup and mixes 1000ml of water with 2 red drink packets.  I use it to wash down the sandwich.  I am not interested in the potatoes or the carrots as, I am just not feeling up to eating that.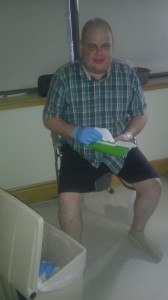 6:10: I am up and moving around.
6:15: Time for a potty break.  More just gas than anything else, but oh…  I am just happy my chemo is done and over with.
6:25: I have my dad take some party potty pics, no worries, these are PG 🙂
6:28: My dad and I sit down to watch Dumb and Dumber on Comedy Central.
7:10: Just sitting here updating my blog!
7:30: Dee and my mom show up.  My dad and I are still watching TV.
8:30: Dumb and Dumber are over.  My mom and dad are going to head out.  My dad has been here all day.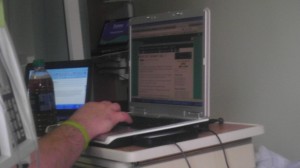 9:00: Dee goes and runs to find about to eat around town.  While Dee is out, I factory reset her phone and redo everything on her phone.  As a result her phone is  running faster and also she is able to access more features.  Hopefully this time she doesn't install all the uneeded games and stuff on it this time.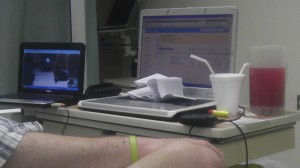 9:45: My dad calls me on skype and I answer and talk back and forth.
10:00: Dee returns and we go through her phone.
11:00: Just killing some time in the room, nothing to do but to kill time to get out of here.
11:59: Another day of time killed…..  Catch you tomorrow.
Next Day: http://craig.handsfreehelp.com/stem-cell-transplant-day-1