06/07/2013:
12:15: More blood work, I am still so exhausted.  I am feeling pretty out of it from the Thorazine too, I request not to take that again until I need it again.  Yeah its great for a no hiccups, but its side effects throw you for a dizzy spell to.
12:30: The nurse leaves, I get out the bed to use the bathroom and am so dizzy.  I fill the urinal and stumble back to bed, not fun at all, barely can hold myself up it feels like.
2:00: I wake up again for another pee break.  Oh, does it feel like I am heavily on something, oops guess I am being in a hospital and everything.
4:00: I am awaken for vitals.  Get up out of bed, on scale, blah, back into bed.
7:15: The fellow comes in and checks on me.  I am not feeling as tired as I and I am slowly getting my energy back.
7:30: The nurse takes my blood sugar, it is in the 280s.  Not the beset, but not having me in a sleeping state.
8:00: I am loaded up on some insulin.
8:15: Breakfast is served.
8:45: Breakfast is done.
9:00: I brush my teeth out by the window.  They don't want me going past the glass door leasing to outside the room.  They tell me the way the air is setup is that everything gets filtered through the filter on the side the room and blown into my room, and then the circulated clean air is circulated out of my room, I can only stay on the window side the room.
10:00: I am just doing some research for a client on some final online backup solutions for a third backup solution for large amounts of storage. Terra bytes and Terra bytes.
11:30: I email off my results.
11:45: Another blood glucose check.  3something.
12:00: More insulin.
12:10: Lunch is served.
12:45: Lunch is done.
1:00: Premeds for my last chemo.  1/2 of Cytoxan.
1:15: The nurse goes and finds another pump to give me my chemo with because I will need 3 pumps.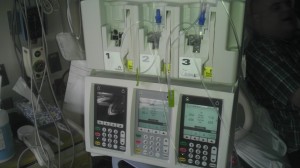 1:30: The nurse returns with a 3 pump.
2:00: I am looking at a video convertor issue for a client.  Freeware is something hard to argue with the makers when they change the software up.
3:00: Time to start the Cytoxan.  The nurse hangs the Mesna a bladder rescue drug to keep my bladder and kidney's flowing.  Then she starts the Cytoxan dose.  I will get full bag of this in an hour!
3:15: Everything is going good, I am up using the urinal.  Fluids are being pumped into me at 250ml per hour, along with the chemo and the mesna.
3:30: My mouth starts feeling funny, a tingling sensation.
3:45: Wow ok, my screen is blurry, I am finding it hard to focus, my nose is itch and congested, my mouth is on fire, my face is hot, I am having a full normal, NORMAL?  Yes normal reaction to this drug, holy shit!  This is no fun at all.
3:55: The nurse shows me a delivery that I received from the Law Offices of Mark W. Smith, a client of mine.  It is a wonderful bouquet of sugar cookies! Yummy, but with my numbers so high, it will be a few days before I can enjoy them.  I have never been through this, and have never known anyone else to go through this, so no one knows what I can and cannot have.  The nurse says I can probably have one later in the week if my sugars start getting better.  My plan is to take the one with the least sugar, eat half on Sunday, eat half on Monday, and have the rest to be taken home and individually wrapped.
4:00: Oh I still feel miserable!  Cookies, so tempting, but now I have a headache creeping in.
4:15: I hit the call button for the nurse.
4:35: The nurse shows up I explain my headache, she goes and grabs the tylenol.
5:00: I get my dinner, I pick at it, it's ok, but the chemo has really thrown me for a loop!  The nurse also gives me a Popsicle to see if that will help with my mouth's burning and weird sensations.  My wife arrives, oh what a day.
6:00: I am pretty much done with all the sensations.
6:30: My parents arrive.  I go over all the ordeals with them.
8:30: My parents are off again, my mom is going over to East Jefferson General Hospital to visit my aunt, and my dad is going to go home and get some rest.
10:00: The nurse comes in and checks my sugars.  274.
10:15: I get my insulin.  I am just watching some TV and talking to my wife.
1030: Dee is going to head on out.  I am watching my Terminator movies on the television, so I am pretty much set for the night.  Terminator IV followed by Terminator II, I got a few hours to kill and doze off to.
11:00: I am working on some antivirus procedures while also getting up every hour to pee with all the fluids being pumped through me.
11:59: Another day gone!
Next Day: http://craig.handsfreehelp.com/stem-cell-transplant-day-2